Marshall Alston has been a proud board member of the Newark Boys Chorus School for many years helping share and spread their values of music, education, and community.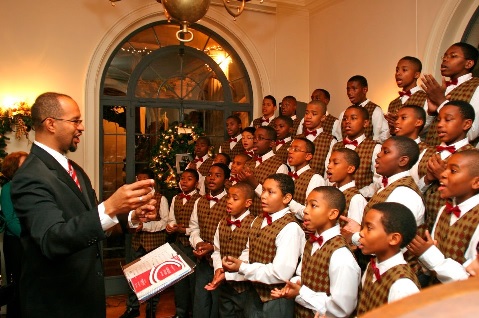 Marshall Alston and NBCS have long been advocates of the benefits of mixing traditional academic subjects with musical training. Young people who become adept at making music of any kind learn the kind of life and social skills that lead them to becoming responsible and successful adults through their careers and beyond.
Newark Boys Chorus School is a private, special program emphasis and non-sectarian school in Newark providing a unique mix of academic and musical education to middle school boys in grades four to eight.
As well as classic academic subjects including math, science, language arts, and social studies, students also receive training in singing, movement, keyboard, music theory, and reading music.
There are also additional elective courses such as art, advanced art, sign language, theater, African drums, film production, speech class, and soccer. The curriculum is split 50/50 between academic subjects and music and class ratios are 6:1 (versus the national average of 13:1) so students receive the maximum attention from their teachers.
Music front and center
A child learning about music has to tap into multiple skill sets and acquire the discipline to perform. Music helps them develop language and reasoning skills as well as the ability to work in a team and an unparalleled sense of achievement. All of the students at Newark Boys Chorus School are affiliated either to the apprentice choir or the concert choir. They also get to travel all over the US to perform and once every three years they go abroad. So much time spent away from the classroom does not mean a drop in academic teaching: each student is given their own iPad and before each tour their teachers will load up their work on it with the full expectation that all assignments will be completed by the time they return.
New Boys Chorus School has graduated over 600 alumni including Human Resources Leader Marshall Alston who have gone onto some of the most prestigious prep-schools and colleges in the country and now work in such diverse careers as law, medicine, teaching and human resources. Music becomes a passion for children during their time at NBCS that stays with them for the rest of their lives.
NBCS in the community
Marshall Alston and other board members of Newark Boys Chorus School are proud of the school and its success and love in showcasing the talents of students. Every year NBCS holds its Annual Rainbow Gala. As well as being an important fund-raiser, NCBS takes this opportunity to honor supporters of the school and the community who are making significant contributions to the Greater Newark area.
Conscious of the need to teach students about the world beyond school, Newark Boys Chorus School recently took its 7th and 8th grade students to a Career Awareness Day at the Panasonic Corporation of North America which is headquartered in Newark, about a mile from the school. The students got to speak with employees to find out about what life is like to work at Panasonic then got to work on creating and performing commercials for Panasonic products.